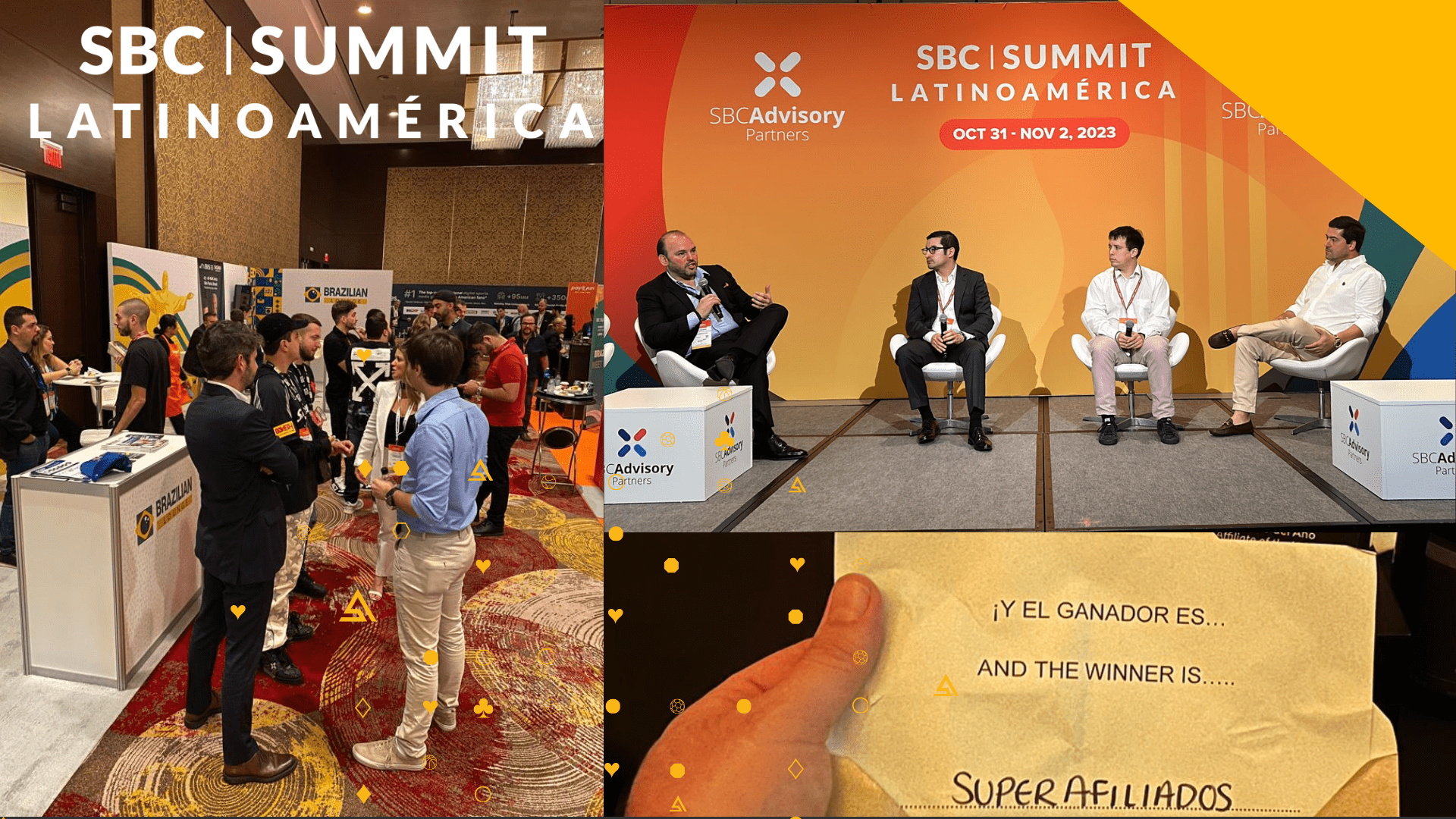 Super Afiliados builds strong partnerships and wins an award at the SBC Summit in Miami.
Super Afiliados had another great experience of sharing and recognition in the iGaming market. In this regard, from October 31st to November 2nd, we were in Miami participating in the SBC Summit Latin America. Firstly, we were present at the Brazilian Lounge alongside major Brazilian companies. Additionally, our CEO and founder, Alessandro Valente, moderated an important panel. Above all, we were awarded "Casino Affiliate of the Year" at the SBC Awards Latin America.
First and foremost, the event filled the Seminole Ballroom, Seminole Hard Rock Hotel & Casino with major Latin American iGaming companies. Thus, Super Afiliados was alongside the partners of the Brazilian Lounge at booth F70.
In summary, the days of sharing provided the birth of solid partnerships. In this sense, we had the opportunity to detail to visitors why Super Afiliados is the number one choice for those looking to work in Brazil. On the other hand, we also learned about the main trends emerging in the Latin American region.
Additionally, one of the great networking moments at the SBC Summit Latin America were the panels with the industry's top professionals. Thus, Super Affiliates participated in the debate "Affiliate Leaders: overcoming the traditional Affiliate-Operator relationship and building trust in Latin America", where our CEO and founder, Alessandro Valente, was the moderator.
Alongside him were Victor Arias (VP of LATAM Operations at Pragmatic Play), Javier Troncoso (CCO of Futbol Sites), and Julio Bernabe (Head of VIP Latin America at Coolbet). In summary, the debate brought new perspectives and guidelines aiming to improve the relationship between affiliates and operators, always seeking significant results for everyone.
Super Afiliados celebrates industry recognition as "Casino Affiliate of the Year"
Above all, our time in Miami ended with a great surprise. After all, Super Afiliados was named "Casino Affiliate of the Year" at the SBC Awards Latin America. Thus, our company received recognition from operators, affiliates, and providers in the Latin American industry.
Regarding this great victory, Alessandro Valente stated that he is proud of the work that has been done. "I am extremely proud to see my team winning this very special award at the SBC Summit Latin America. Thank you all for your efforts. We are on the right track."
Therefore,after yet another successful gathering, the Super Afiliados team is gearing up for the next commitment. In this regard, we will be attending SiGMA Europe 2023, from November 14th to 17th, representing the national market at the Brazilian Lounge. This way, we will be able to further strengthen our relationship in the industry, just as we did in our participation at ICE, Afiliados Brasil, BIS Sigma America, SBC Summit Barcelona, and Miami.